Meet Our Great Condor Cargo Team
Years of Experiences Packed Into Dedicated and Enthusiastic Talent
Our team is all about providing industry-tested solutions to varying challenges. Your freight moves through different layers of intermodal logistics in its journey to its final destination. The Condor team ensures that all layers are working together.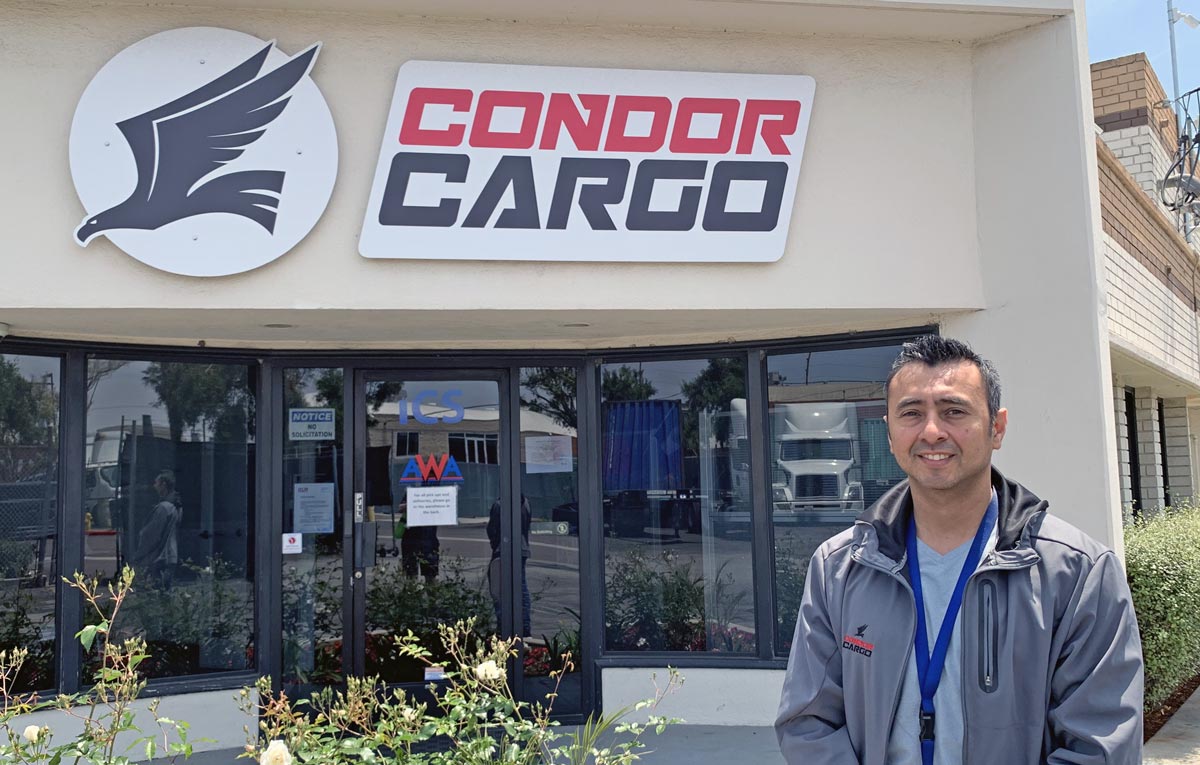 Meet Oscar Arevalo
Internal Client Manager
He is one of our incredibly valuable members here at Condor Cargo.
Originally from El Salvador, Oscar went to Francisco Gavidia University, where he graduated with a degree in Industrial Engineering, which was one of his goals growing up. In 2014, Oscar Moved from El Salvador to Southern California, where he began working at DSD Trucking and CFS as a forklift/warehouse operator. Shortly after, he became the supervisor for AWA's freight, who was a tenant of DSD at the time. In 2017, when AWA relocated to Hawthorne, Oscar became part of the ISCM LLC family, being hired as a warehouse supervisor, and quickly became the lead ULD builder for all ULD allocations, working in the CCSF department. Since then, Oscar has moved up to become the internal Client Manager, who runs the operations ISCM Air Exports. Oscar has used his industrial engineering skills to help streamline the air export process, working with software to plan ULD consolidation builds as well as constructing building guides, following the airline requirements for height and contour based on different aircraft.
In his free time, Oscar enjoys spending time with his wife and two kids, playing chess, and going fishing.
Oscar has an incredible work ethic and does everything at the highest quality level possible. We are incredibly thankful to have him as part of Condor Cargo for the last 5+ years, and we hope to celebrate many more anniversaries with him.
Our team has decades of experience providing innovative freight logistics solutions to global supply chain management challenges.
Originally born and raised in San Diego, Michael moved to LA County for university, graduating from California State University, Long Beach in 2020 with bachelor's degrees in Supply Chain Management and Business Management. After starting with Condor Cargo as an assistant project manager, Michael has worked his way into the role of CCSF Manager, overseeing the air freight operations for Condor Cargo, and ensuring that all air cargo is safe for travel in passenger and cargo aircraft. He and his department have expanded their operations, increasing the size of their Designated Screening area by about three-fold since he began working there. The CCSF Department now has a plethora of clients, both with internal companies and external clients, pushing out around 100,000 kilograms of air freight a week.
Our Ocean Freight Manager Mike Eriksen
Mike Eriksen, General Manager of Condor Cargo. Mike overseas all operations and development of Condor Cargo and over his 23 years in the logistics industry he has amassed a wealth of knowledge and expertise. Mike has built a strong team of industry professionals who are passionate about providing the highest level of service whist demonstrating a solution based mindset. Mike has successfully grown Condor from one facility utilizing 40K sq ft to 2 facilities utilizing 90K sq ft. He has developed Condor Cargo from one division with 5 employees into four separate divisions with a team of 30 Employees. Through his passion for developing teams and growing individual talent Condor Cargo has continued to develop into an industry leader providing exceptional services and solutions to a diverse range of customers. In his spare time Mike is an avid mountain biker as well and a rugby coach/supporter. Mike is the current vice president at Belmont Shore Rugby club where he has played and coached for the last 23 years.
Our Brokerage Manager Garrett Horton
Currently, I am the Broker/Project Manager at Condor Cargo which is located in Hawthorne, CA. I graduated from Cal State Long Beach in 2018 with a degree in Management & Supply Chain Management and was an active member of the Society of Advanced Management (SAM) Club. I started at AWA as an R&D associate while I was still attending CSULB. After graduation I came on full-time and have been with the company since & have since been promoted to a PM & Brokerage Manager. I enjoy finding cost saving solutions and offering a vast array of transportation solutions for all projects small and large. I was born & raised in the South Bay & now currently live in  Hawthorne. In my free time, I enjoy  snowboarding, scuba diving, hiking and Real Estate!
Our Transloading Manager Dernesha Speight
Dernesha holds bachelor's degrees in Business Management and Supply Chain Management from California State University Long Beach. She is a CargoWise Certified Professional as well a Lean Six Sigma Green Belt. She brings over 10 years of experience in transportation, customer service, and logistics to her role. At Condor Cargo, Dernesha is responsible for overseeing the transloading operations of the company, ensuring that products are safely and efficiently transported from one mode of transportation to another.
As the Transloading Manager, Dernesha is responsible for managing a team of professionals who are responsible for loading and unloading products, ensuring that they are properly secured and packaged, and monitoring shipments to ensure that they are delivered on time and in good condition. She is also responsible for implementing processes and procedures to improve efficiency and reduce costs.
Dernesha is known for her strong leadership skills and her ability to work effectively in a fast‑paced and dynamic environment. She is passionate about providing exceptional customer service, and is committed to ensuring that Condor Cargo's clients receive the highest level of service and support.